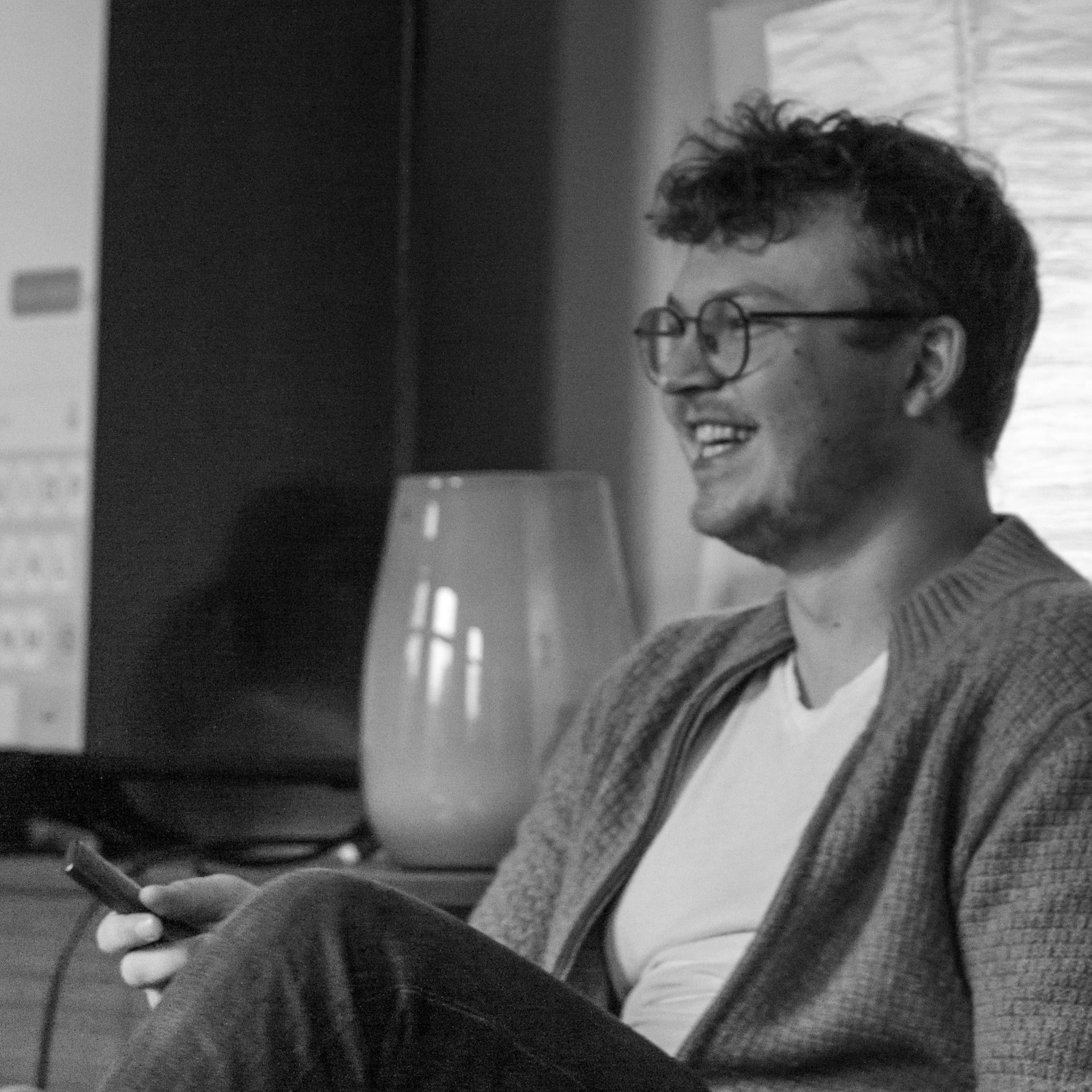 bio
Born in Kassel 1994, grew up near Stuttgart, working and studying in Cologne.
My early career started back in school by designing the school's newspaper and coding my own content management system, which was used in production over ten years. I do not really like working in front of a screen for a living—though I love my job—that's amongst others why I started studying Integrated Design at KISD. After four five six years of studying my average daily screen time did not increase that much, but after all, I can live with that now. Though I am always happy to have some time without any screens nearby.
I like to explore new things, but when it's about food and movies I usually prefer the things I know. Sometimes I play some random campfire songs on the guitar. I love sports, but tend to watch more than actually doing it myself, if nobody is forcing me to do otherwise.
I'm a fan of good drinks—coffee, juice or beer is totally fine—, dogs, Werder Bremen and Dieter Rams. Oh, and my last name is pronounced with a short first syllable.
work experience
TAKEPART Media + Science, Cologne
03/2021 – present
Web developer

Freelancer for design and development

04/2013 – present

mostly digital projects for and with several clients and agencies

HPZ Scharnhausen, Ostfildern

01/2012 – present

Management and design consultant

responsible for public relations and IT

consulting in the areas of services and corporate structure and development

BRPL studio für gestaltung, Brücken Plöns GbR, Cologne

01/2016 – 12/2019

Co-founder, designer and developer

VOLTGEAR UG (haftungsbeschränkt), Cologne

08/2014 – 01/2016

Co-founder and CEO

responsible for design and development of e-commerce store and website, financial planning and logistics

Zet B Werbung, Stuttgart

10/2012 – 03/2013

Intern Graphic & Frontend

various print and web projects for small and mid-sized clients
education
Master of Arts in Integrated Design

03/2020 –08/2020

Köln International School of Design, Technische Hochschule Köln

Bachelor of Arts in Integrated Design (1,1)

09/2013 – 07/2019

Köln International School of Design, Technische Hochschule Köln

High School Degree (Abitur)

09/2005 – 07/2012

Hölderlin Gymnasium Nürtingen

Life
1994 – present
social commitment
Watt En Schlick Fest, Dangast
08/2018 – present
volunteering two weeks a year setting up the best cultural festival in the world

Hippotherapienetz e.V., Ostfildern

04/2016 – present

Secretary and member of board

responsible for public relations, IT and event organisation
awards & exhibitions
projects done with and for
Andreas Keller Fotografie

Alcatel-Lucent Enterprise

Boskamp Group

BW Bau

C/O Lauscher

DEQUE Hesselmeier & Sawitzki

Engel Natur & Engel Sports

ELWEMA Automotive

HPZ Scharnhausen

Just Essentials

Putzmeister Holding

Rohwedder Macro Assembly

Ruhrfestspiele Recklinghausen

Studio Balzer Kuwertz

Tobias Sawitzki

Ute Bastin Mode

VOLTGEAR

Wagner EWAR

Zet B Werbung
services & process
You can hire me if you need help with any digital (usually web-related) project. I can work with you within the complete scope of a project, or only for a certain stage or two—but if you'd ask me, I'd tell you it's the best if everyone who is involved in the project is involved from the very beginning on, and that the team constantly iterates over the four stages:
1/ write (strategy)
Together we define your and your customer's needs, research, write a concept and define the strategy and information architecture for your digital product.
2/ paint (idea)
Based on the strategy, I help coming up with the story you want to tell and layouting your product.
3/ build (infrastructure)
Coding the actual product and develop the hardware architecture needed.
4/ run (product)
Monitoring and analyzing the use of the product is critical for iterating over strategy, idea and infrastructure.
Occasionally I also work on non-digital projects—which is kind of the same process as laid out above—but usually I connect with befriended colleagues therefore, as well if the project's scope requires it.